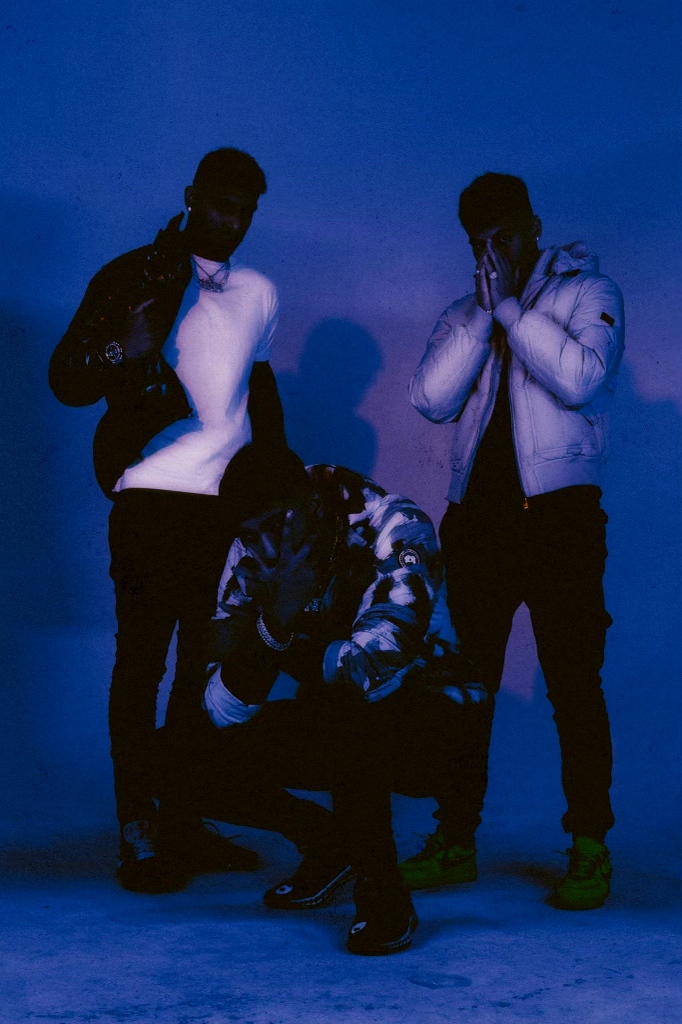 Un!dentified is a Hip-Hop/Rap group from Vancouver, British Columbia. Comprised of members Justin Dosanjh, Harman Sandhu, and Sukhan Sandhu. Un!dentified is on a mission to define the sound of Vancouver; a city with a growing hip hop scene that has remained untapped by the mainstream market. They are presently unsigned and 100% independent. Un!dentified has performed alongside artists like A Boogie Wit da Hoodie, Tyga , Trey Songz , PnB Rock , Rich The Kid, Chief Keef , YBN Nahmir & NLE Choppa. Un!dentified is a hit-making powerhouse as they have maintained in-house writing, creative direction, and production for all their releases. This group embodies the definition of the modern-day, independent, self-sufficient musical juggernaut as it's 3 members Justin Dosanjh, Harman Sandhu, And Sukhan Sandhu are the sole masterminds behind everything they have done!
Un!dentified was formed as a product of three like-minded artists Justin Dosanjh, Harman Sandhu, And Sukhan Sandhu coming together to bring a shared vision to fruition. Justin and Harman are childhood friends. Growing up in the same neighborhood, high school, And playing on the same ice hockey team. They both share a passion and goal to become hip-hop stars out of Vancouver, British Columbia. Eventually becoming mentors to the younger generation. Justin and Harman started to create music together under the name 14/21. This representing their jersey numbers, that they wore playing together growing up. With time, their writing and recording skills dramatically improved and they both knew they were onto something that was very special. However, they knew that there was still something missing. Eventually Justin and Harman reached out to Sukhan to produce one of their tracks for them. At this time Sukhan was a local producer working with different local artists. From here, the three started working on music together and learning each others' styles. After a few studio sessions it was clear that these three artists were onto something new that hadn't been done before. Though it was unclear at the time, this "thing" would go on to become Un!dentified's sound. The formation of Un!dentified was gradual and organic. More than being a one-time decision to form a group, it was a process of three talented artists who all brought something special to the table making music together and eventually adopting the moniker Un!dentified.
Un!dentified knows how to put on a show! Along with priding themselves on their musical talents and hit-making abilities, they're passion for performing is second to none. Their music is created and curated with a sense of performance always in their mind. So when Un!dentified hits the stage, each one of their members is ready to pop off during specific parts of each song. Engaging with, as well as entertaining, the crowd is a huge priority for the group. We wish for every person who comes to watch Un!dentifed perform to feel like they got a front row seat and a VIP experience.
Whether it's engaging with fans in the crowd one-on-one, or jumping into the mosh pit and raging, when the boys are on stage they don't hesitate in doing anything to make their shows worth every dollar. Un!dentified began touring mid-2019, and since then have had the chance to perform at the Sounds of Summer Festival in San Antionio and share the same stage as acts including Chief Keef, Tyga & Trey Songz. They have also opened up for A-Boogie Wit a Hoodie in their hometown of Vancouver, BC and hosted club events/shows here too. Due to the COVID-19 pandemic, their touring plans have been put on pause, but many potential shows and events are being planned for the latter part of this year.
Un!dentified at The Pitt (UBC)
Rich The Kid - I Need A Grammy Tour
Sapphire Club Kelowna, BC + The Vouge Vancouver, BC
Un!dentified at Fortune Sound Club
Sound of Summer Music Festival
Nelson Wolff Stadium, San Antonio, TX
Outbreak Tour "A Boogie vs Artist"
Commodore Ball Room, Vancouver, BC
Un!dentified is a hip-hop trio comprised of 3 unique personalities and this shows significantly in their music. Their versatility and ear for production is definitely their greatest strengths. However, despite their unique characteristics, their work process is very collaborative. This is of high priority to them as it helps ensure the co-existence and synchronicity they aim for in their songs. Everything, from the creative planning stages of the song, to writing, to production, and even recording is done collaboratively to guarantee every box in their hit check-list is marked! Although the inspiration for their songs is coming from three unique perspectives, their sound and message is one.
In this way, Un!dentified takes full advantage of the perks of being a musical trio; whilst avoiding common obstacles that most bands and musical groups face in their development. Un!dentified has consciously worked on developing a style for themselves which is unique, yet cohesive, while still sounding new and fresh. With all three members being of south-asian descent, and being from a city where south-asians are the predominating minority, Un!dentified hopes to represent, firstly, their city from which no big superstars have made it in this industry. Vancouver has a beautifully emerging Hip-Hop scene and is home to many greatly talented artists, producer, and other creatives. It represents a large market which is a touring hotspot for most of the biggest artists in the industry. Un!dentified's goal is to be the prolific stars that their city has been for so long seeking to represent them. Moreover, they also hope to represent the South-Asian community which has, in recent years, had a huge influx into the industry. From artists, writers, producers, and engineers, South Asian talent has been emerging steadily in the hip hop scene. More and more of this demographic is investing into the scene, and alongside putting their city on the map, Un!dentified is constantly working on giving back to their community, inspiring young artists, and being a beloved representation in the Hip Hop scene. Since its origins, Hip Hop has been a ground-breaking, border-free, and barrier-smashing genre. Un!dentified aims to continue carrying this torch and blazing the path for new, inspiring, and diverse artists to enter Hip Hop. The impact that Un!dentified hopes to have in the Hip Hop scene is that of introducing something that has never been done before. There have been legendary groups that have blessed the genre with their creative talents and art. However, none with the story, background, and identity that Un!dentified represents. They are currently fully independent and are actively seeking to expand and grow their team. Building a team, and surrounding themselves with the right people to help elevate them to that next level is a necessity. "We aren't looking for any hand-outs, we're ready to work for whatever we want and do what needs to be done. But, at the same time, we're not blind to the fact that there is only so much three people can do. We believe that everyone is unique and has special skills/talents. We want to surround ourselves with people who are skilled in areas where we still may require more experience. If you want to go fast, go alone; but if you want to go far, go together." With this mentality, Un!dentified hopes to achieve a level of success where not only they can reap the fruits of their labour, but also give back to the people who helped them get there.